Advantech's Cold Chain Management Solution Ensures the Quality of Vaccines, Medicines, and Blood Bags
12/03/2021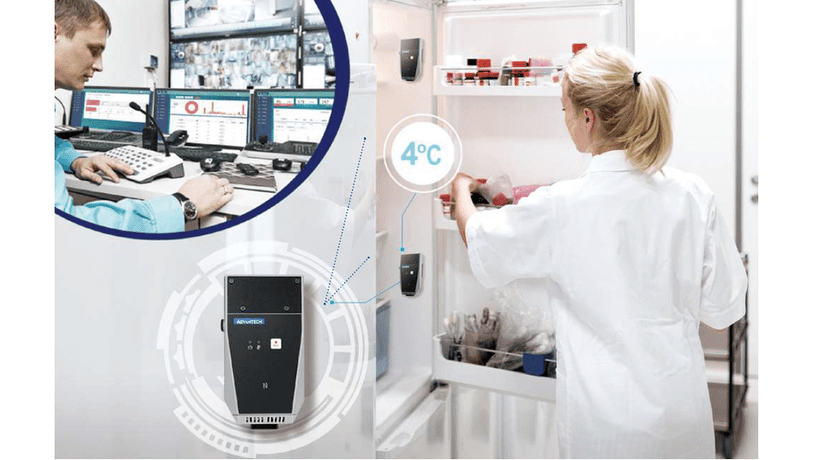 Photos provided by iStock
Interview with David Yang, Product Manager of Intelligent Logistics SRP, Advantech
As the clinic closes at 9 p.m., the person responsible for registration is getting ready to leave work. When she opens the door on her way out, a thought pops into her mind, "I must record the temperature of the refrigerator before leaving!" But she quickly dismisses the thought, remembering that the clinic recently installed a temperature sensor in the refrigerator that automatically records temperatures. "No more daily checking and recording of temperatures," she smiles to herself as she leaves the clinic.
Replacing manually-written records with automatic temperature recording
According to regulations established by Taiwan's Food and Drug Administration, the storage of vaccines and medicines must be done at certain temperature and humidity levels; the error margin for temperature is +/- 0.5 °C and for humidity +/- 5%. In the past, staff had to manually check and record refrigerator temperatures every day in the morning, noon, and evening. Although there are many disadvantages to this type of manual record keeping, the risk of human error is the most significant. For example, staff may be too busy and forget to check and record the temperature, inaccurate or fraudulent values could be recorded, and paper-based records are difficult to read and log.
To solve these issues and reduce staff workloads, the clinic implemented Advantech's TREK-120 LoRa wireless temperature sensors, installing a sensor on each shelf of the refrigerator. Via NFC connectivity, staff can access related data from a handheld device that automatically uploads data to a cloud platform. Additionally, the daily temperature records can be used for further analysis to predict when temperature fluctuations that exceed the margin of error are likely to occur.
David Yang, Intelligent Logistics SRP Product Manager at Advantech, stated that after seeing the analysis reports, staff at the clinic started to reduce the frequency with which they opened and closed the refrigerator, improving the storage environment for vaccines and medicines
Implementation of TREK-120 sensors and TREK-530 in-vehicle LoRa gateway
In addition to the clinic, the blood donation bus of a blood donation center also adopted Advantech's TREK-120 LoRa wireless temperature sensors and TREK-530 in-vehicle LoRa gateway. These products were deployed to safeguard the quality of blood bags stored in the bus refrigerator by collecting and uploading temperature data to the cloud platform for real-time monitoring.
Yang pointed out that the blood donation bus was initially equipped with wired sensors that were calibrated at least once a year. However, the sensor cables were embedded inside the bus frame, making calibration extremely troublesome.
A specialist was required to locate and dismantle the sensors—a process that can take at least 30 minutes for each sensor. The sensors were then sent to a third-party inspection unit for calibration, during which time, all operations of the blood donation bus would be suspended.
By implementing Advantech's TREK-120 sensors, the complicated calibration and wiring of sensor cables throughout the blood donation bus could be eliminated.The administrator just needs to install the sensors inside the refrigerator, turn them on, and they will start to detect temperatures.
The TREK-530 in-vehicle LoRa gateway automatically uploads the temperature data collected to the cloud platform for real-time management and monitoring. This significantly reduces the difficulty of maintenance and greatly enhances the scheduling flexibility of the blood donation bus.
Realizing uninterrupted temperature monitoring from transportation to storage
Yang revealed that Advantech's cold chain management solution has been implemented not only in clinics and blood donation buses, but also in medicine inventories at medical centers and hospitals. One of the main advantages of Advantech's temperature sensors is that they support wireless data transmissions, which ensures convenient installation and maintenance. The 24/7 uninterrupted temperature detection and recording, coupled with big data analysis, can assist medical professionals with identifying blind spots in inventory management and improve the quality of stored vaccines and medicines in line with Goods Distribution Practice (GDP) standards.
Furthermore, Advantech's solution helps safeguard the quality of vaccines during transit. Yang added that in the past, most temperature monitoring systems used in the transport of vaccines employed maximum-minimum thermometers or disposable thermometer strips, which can only detect whether temperatures exceed legal standards but cannot indicate when temperature abnormalities occur and which boxes are affected.
With Advantech's complete solution, medical professionals can have total control of the temperature at which vaccines are stored from the moment they arrive at the hospital refrigerator. Only with uninterrupted temperature monitoring can high-quality vaccines and medicines be effective for safeguarding health and treating disease.