Advantech Collaborates with Intel on NFVI Solution Innovation
11/09/2019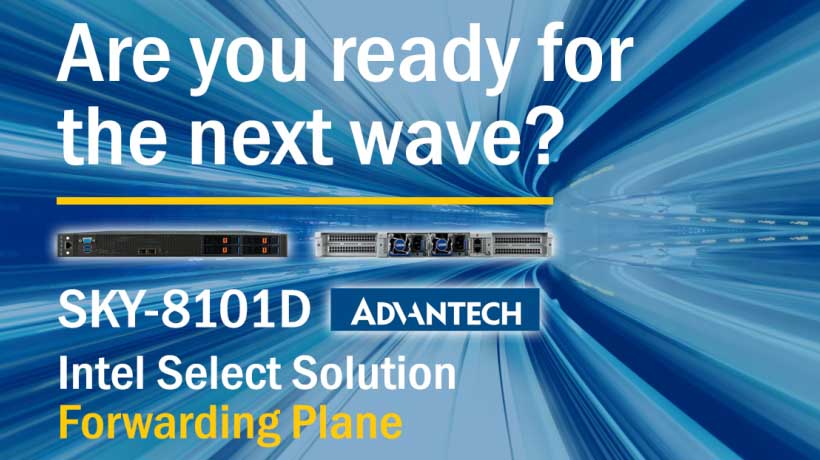 NFV-Ready 1RU high-performance, dual-socket, NUMA balanced server
Fully certified with Red Hat Enterprise Linux and Red Hat OpenStack Platform
Maximizes network I/O per NUMA node for increased subscriber density, higher throughput and greater cost efficiency per rack unit
400Gbps throughput per system, 200Gbps full-duplex per CPU socket

TAIPEI, Taiwan, Sep 11, 2019 – Advantech (TWSE: 2395.TW) today announced its collaboration with Intel to deliver new SKY-8101D server based Select Solution NFVI Forwarding Plane (FP) configurations powered by 2nd generation Intel® Xeon® Scalable processors. Advantech will verify SKY-8101D configurations against Intel's Select reference design in the coming months. Once complete the servers will ship as pre-configured Controller and Cloud Node NFVI Forwarding Platforms.
Intel® Select Solution NFVI FP is an enhanced NFVI solution for 4G or 5G core User Plane Functions (UPF), broadband use cases, such as virtual Broadband Network Gateway (vBNG), network services such as virtual Evolved Packet Core (vEPC), IPsec Gateways, and cable use cases such as virtual Cable Modem Termination System (vCMTS) that demand high performance and throughput.

Figure 1. SKY-8101D front & rear view
The system configurations are defined by Intel in collaboration with communication service providers and ecosystem partners such as Advantech to expose the value of an I/O balanced architecture to maximize network I/O throughput per NUMA node.
The server configurations feature a workload-optimised stack tuned to take full advantage of Intel architecture (IA) and meet a performance threshold capable of serving large numbers of subscribers while delivering a premium customer experience. Designed as a solution-ready platform, it leverages hardened hardware, firmware and software to allow customers to integrate on top of a verified foundation.
"Advantech servers, verified as Intel Select Solutions, help make end-user design choices simpler by bundling verified hardware and software combinations together for more predictable outcomes." said Ben Shen, Director Cloud Computing Platforms, Advantech Cloud-IoT Group. "The key value of this solution is it maximizes network I/Os per NUMA node for increased density and greater cost efficiency per packet throughput and per rack unit. We believe it is a winning combination for communication service providers seeking new approaches to solve their network transformation challenge."
Advantech anticipates completing verification by mid-October with pre-configured systems available for shipping by November. Verified systems will also be made available for evaluation and benchmarking in Advantech's Remote Evaluation Service labs, enabling communications service providers to accelerate the testing and modelling of solutions for next-generation services.
The Advantech SKY-8101D platform will be showcased at the Advantech booth during the NFV & Carrier SDN Event in Dallas on Sep 17-19 and at the Intel booth during SDN NFV World Congress in The Hague, NL on Oct 14-17.
Founded in 1983, Advantech is a leader in providing trusted, innovative products, services, and solutions. Advantech offers comprehensive system integration, hardware, software, customer-centric design services, embedded systems, automation products, and global logistics support. Our mission is to enable an intelligent planet with embedded computing products and solutions that empower the development of smarter working and living. With Advantech, there's no limit to the applications and innovations our products make possible.
For Telecom and Networking markets, Advantech Cloud-IoT Group helps service providers and enterprises extend network function virtualization from the core to the edge by providing scalable compute platforms that reliably execute virtual network functions anywhere in the network. Our innovative white-box uCPEs for software-defined WAN and white-box servers based on Intel architecture are supported by a vibrant software ecosystem and supply chain, offering key foundational building blocks that accelerate network transformation and time to new revenue. From next-generation central offices to edge cloud expansion and IoT, Advantech Cloud-IoT Group is enabling the co-creation of products and services that will form the backbone of the new digital economy. http://www.advantech.com/nc.