Advantech Receives 2021 IoT Evolution Industrial IoT Product of the Year Award for the WISE-2410, WISE-6610 and the UNO-430
8/09/2021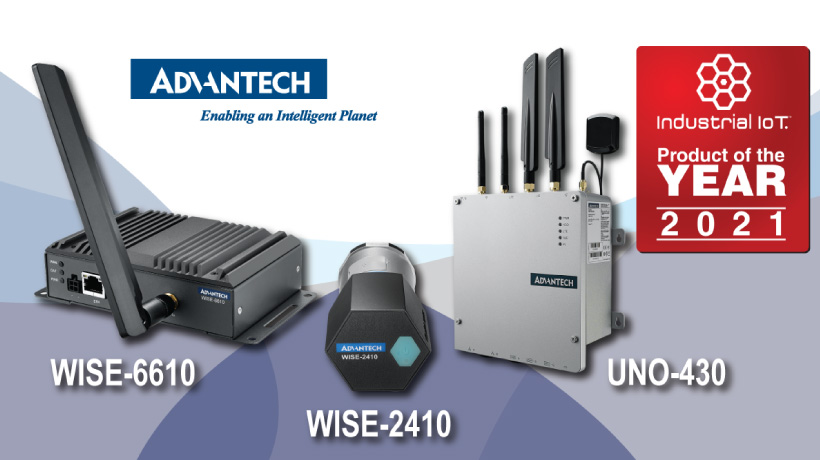 April 13, 2021, Cincinnati, OH - Advantech announced today that WISE-2410 & WISE-6610 LoRaWan products and the UNO-430 have received the 2021 IoT Evolution Industrial IoT Product of the Year Award from IoT Evolution World, the leading magazine and Website covering IoT technologies.
WISE-6610 LoRaWAN Gateway
The WISE-6610 is a high-performance LoRaWAN gateway with reliable connectivity options for industrial environments and LoRaWAN protocol support for building LoRaWAN private and public networks. It also supports other protocols, including MQTT, and its hardware and software flexibility provides rich features to edge intelligence systems. The WISE-6610 allows for VPN tunnel creation with various protocols that ensure safe communication. It also provides a network server that can encrypt and convert LoRaWAN data in the device, and its redundancy-enhanced functions are specifically designed to prevent connection loss.
WISE-2410 LoRaWAN Wireless Condition Monitoring Sensor
The WISE-2410 is a LoRaWAN wireless conditional monitoring sensor integrated with ARM Cortrex-M4 Processor, LoRa transceiver, 3-axis accelerometer and temperature sensor. It balances the wireless bandwidth between the WISE-2410 and the gateway (WISE-6610), so it also mitigates the data transmission fail rates between edge-devices and gateways.
UNO-430 Waterproof Edge Intelligent Gateway
Designed for use in harsh industrial environments, the UNO-430 features all-around IP69K/68-rated ingress protection and M32 and M12 I/O connectors to provide a truly watertight solution that can withstand the most demanding applications. The waterproof enclosure features a front door for easy access and maintenance as well as a cable gland that offers further ingress protection, reducing the need for waterproof cables and wiring. This comprehensive protection also eliminates the need for a waterproof cabinet, allowing customers to use the UNO-430 gateway as a standalone data acquisition gateway.
"The solutions selected for the Industrial IoT Product of Year Awards represent the diverse range of innovation driving the multi-billion dollar IoT market today. It is my honor to congratulate Advantech for their innovative work and superior contribution to the rapidly evolving IoT industry," said Ken Briodagh, Editorial Director for IoT Evolution.
"It is my pleasure to recognize the WISE-2410, WISE-6610 and the UNO-430 as innovative solutions that earned Advantech the 2021 Industrial IoT Product of the Year Award," said Rich Tehrani, CEO, TMC. "I look forward to seeing more innovation from Advantech in the future."
For more information on these or other Advantech products, please contact your local sales support team or visit our website at www.advantech.com.
Founded in 1983, Advantech is a leading provider of trusted, innovative products, services, and solutions. Advantech offers comprehensive system integration, hardware, software, customer-centric design services, embedded systems, automation products, and global logistics support. We cooperate closely with our partners to provide complete solutions for a wide range of applications in diverse industries. Our mission is to enable an intelligent planet by developing automated and embedded computing products and solutions that facilitate smarter working and living. With Advantech products, the application and innovation potential becomes unlimited. (Corporate website: www.advantech.com).
Crossfire Media is an integrated marketing company with a core focus on future trends in technology. We service communities of interest with conferences, tradeshows, webinars and newsletters. Crossfire Media has a partnership with Technology Marketing Corporation (TMC) to produce events and websites related to disruptive technologies. Crossfire Media is a division of Crossfire Consulting, a full service Information Technology company based in New York.
Through education, industry news, live events and social influence, global buyers rely on TMC's content-driven marketplaces to make purchase decisions and navigate markets. As a result, leading technology vendors turn to TMC for unparalleled branding, thought leadership and lead generation opportunities. Our in-person and online events deliver unmatched visibility and sales prospects for all percipients. Through our custom lead generation programs, we provide clients with an ongoing stream of leads that turn into sales opportunities and build databases. Additionally, we bolster brand reputations with the millions of impressions from display advertising on our news sites and newsletters. Making TMC a 360 degree marketing solution, we offer comprehensive event and road show management services and custom content creation with expertly ghost-crafted blogs, press releases, articles and marketing collateral to help with SEO, branding, and overall marketing efforts. For more information about TMC and to learn how we can help you reach your marketing goals, please visit www.tmcnet.com and follow us on Facebook, LinkedIn and Twitter, @tmcnet.