Advantech Releases SOM-6872: A Powerful COMe Compact Module with AMD Ryzen™ Embedded V2000 SoC
12/04/2021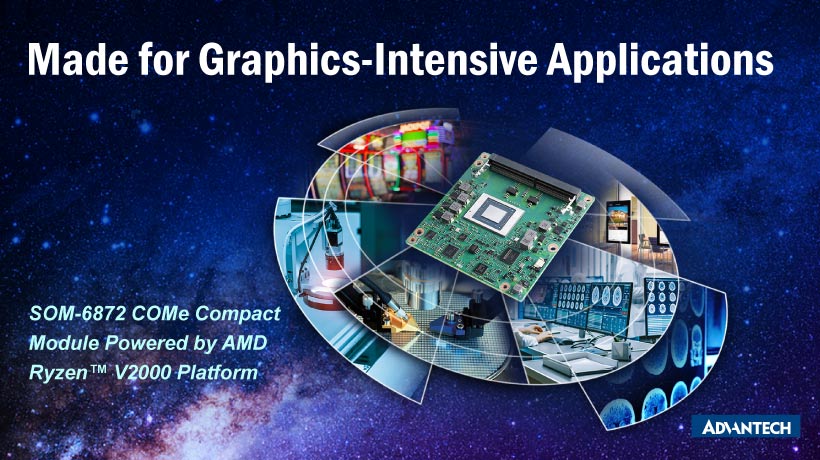 Taipei, Taiwan, March 2021 — Advantech, a leading embedded and AIoT solution provider has released the SOM-6872 COM Express Type 6 module equipped with AMD Ryzen™ Embedded V2000 SoC. This powerful, compact module delivers excellent performance and supports 8 x cores, 16 x threads, turbo boost (up to 4.25GHz), and 4 x independent 4K displays. Advantech's SOM-6872 features built-in I/O interfaces and facilitates excellent graphic performance without requiring additional graphics cards. This solution is an excellent choice for digital signage, medical imaging, machine vision, gaming, and other graphics-intensive applications.
Huge Performance via a Tiny COM Express Compact Module
How to have powerful performance but with low power consumption and small size at the same time is always an important task for hardware designers. The SOM-6872 is designed for this. It meets the demands for simultaneously powerful, compact, and energy efficient solutions. This small (95 x 95 mm/ 3.74 x 3.74 in) module delivers superior performance via 54W high TDP, and uses 24% less space compared to COMe Basic models. Despite being small, it delivers surprisingly high CPU Mark score tested by PASSMARK PerformanceTest V10.1, 21716. This score is better than 87% of the existing CPUs and even equals to server grade computing performance! Not only performance, this powerful solution supports ample I/O interfaces — including USB 3.2 Gen 2, PCIe Gen 3, GbE, SATA 3, and 4K display interfaces (DP++, HDMI, VGA, and LVDS). In addition, the on board TPM and 64GB ECC/Non-ECC memory improves both security and reliability. Customers leveraging SOM-6872 could expect superior performance and increased system space without enduring costly design changes.
QFCS Thermal Technology Augments Performance
AMD's innovative 7nm technology and Zen 2 architecture enables V2000 SoC to double performance per watt. V2000 10 ~ 25W SKUs achieve 45W level performance in mobile CPU categories. Congruously, 35 ~ 54W SKUs reached 95W level performance in desktop CPU categories. SOM-6872 remains capable of 100% performance without throttling when the SoC is at 54W TDP. This is achieved by using Advantech's patented thermal solution — the Quadro Flow Cooling System (QFCS). SOM-6872 uses two TDP options (35 ~ 54W and 10 ~ 25W) to fulfil the needs of middle/high-end systems. In addition, Advantech leverages extensive Computer-on-Module design-in experience to provide comprehensive design reference documents and multiple evaluation carrier boards. When combined with SOM-6872's adaptability to different systems, these materials significantly ease adoption and reduce development costs.
Value-added Software Eases Edge Connection
iManager, Advantech's proprietary software, augments SOM-6872's already impressive performance by delivering 24/7 real-time I/O interface control and monitoring. Similarly, WISE-DeviceOn enables customers to monitor system statuses remotely, update programs over the air (OTA), and prevent system malfunctions. As an added benefit, SOM-6872 supports BIOS storage protection, secure boot, and BIOS power-management features. In sum, this combination of innovative technologies and easy integration make SOM-6872 applicable to myriad AIoT/IIoT applications.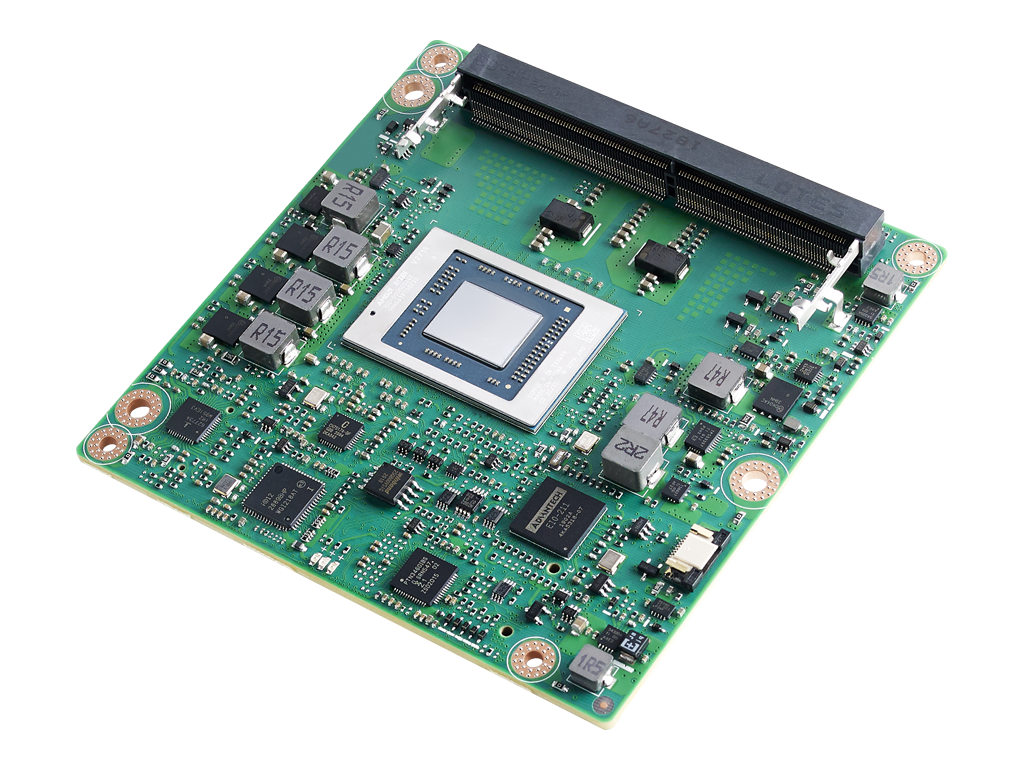 COM Express R3.0 Compact Type 6 Module with AMD Ryzen™ Embedded V2000 SoC
2 x DDR4-3200 SODIMM dual channel with up to 64GB ECC/non-ECC memory support

I/Os include — 2 x USB 3.2 Gen 2, 1 x PCIe x8 Gen3, 8 x PCIe x1 Gen3, 1 x GbE, and 2 x SATA 3.0

Supports 4 x 4K display (DP++, HDMI, VGA, LVDS)

QFCS thermal solution unleashes 100% performance without throttling

Supports Advantech iManager and WISE-DeviceOn

Wide operating temperature support (0 ~ 60 °C/32 ~ 140 °F)