Advantech Launches WISE-PaaS/EdgeSense to Enable Edge Intelligence and Sensing Integration
6/11/2017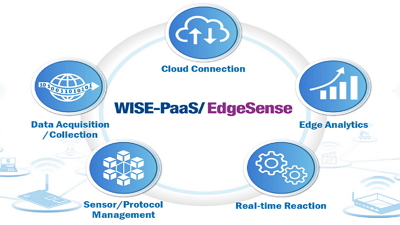 Nov. 6, 2017, Taipei — Advantech, a leader of the global industrial computing market, today announces the release of WISE-PaaS/EdgeSense, an edge intelligence and sensing integration software solution that incorporates sensor data aggregation, edge analytics, and cloud applications for the rapid and easy acquisition/analysis of real-time data from which operational intelligence can be derived. The solution is key to edge devices being able to acquire and preprocess data easily in edge computing applications, including the setting of rule operations for processing event data in real time, as well as data preprocessing for cloud-based analytics and visualization.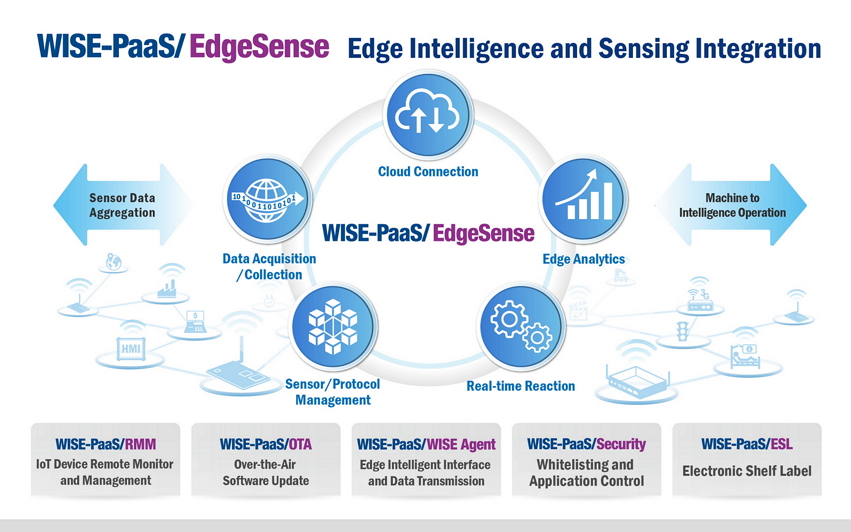 From Data Collection and Edge Analytics to Cloud Applications
The process of deriving operational intelligence starts with the acquisition of data from IoT devices. The built-in WISE-PaaS/WISE Agent integrates various sensing data formats for the aggregation of sensor data via either wired or wireless approaches. WISE-PaaS/EdgeSense provides an open and standard interface that offers not only remote monitoring but also control capability for managing the many types of devices. It also acts as a bridge for transmitting sensor data from the field to the cloud.
For instance, the MQTT protocol's bidirectional cloud connectivity means that in addition to being able to acquire data, customers can also deploy commands remotely. This allows simple logics to set up for the local evaluation of collected data. Thus, it is considerably more efficient for data processing, and its value is especially notable for saving time and handling throughput-sensitive cases. It is feasible to execute algorithms for AI and predictive maintenance on both the edge and the cloud. WISE-PaaS/EdgeSense is designed to aid our partners and customers in increasing their overall operational efficiency and realizing IoT value. For more information about WISE-PaaS, please contact your local sales team or visit the Advantech website at wise-paas.advantech.com/embedded. For information on edge intelligence servers, please visit eis.advantech.com.
As a global leader of the embedded computing market, Advantech's Embedded-IoT Group not only offers a wide range of embedded design-in services but also provides diverse integrated IoT solutions that assist customers with IoT adoption while minimizing uncertainty and risk. Advantech's integrated IoT solutions include sensor nodes, gateways, Edge Intelligence Server (EIS), and the WISE-PaaS IoT software platform. (Embedded-IoT Group website: embedded-IoT.advantech.com)
Founded in 1983, Advantech is a leader in providing trusted, innovative products, services, and solutions. Advantech offers comprehensive system integration, hardware, software, customer-centric design services, embedded systems, automation products, and global logistics support. We cooperate closely with our partners to help provide complete solutions for a wide variety of applications across a diverse range of industries. Our mission is to enable an intelligent planet with automation and embedded computing products and solutions that drive the development of smarter working and living. With Advantech, there is no limit to the applications and innovations our products make possible. (Corporate website: www.advantech.com)