HIMSS Greater China AVP and Director of Education Anjie Ren advocates patient safety improvement through closed loop medication administration
16/11/2018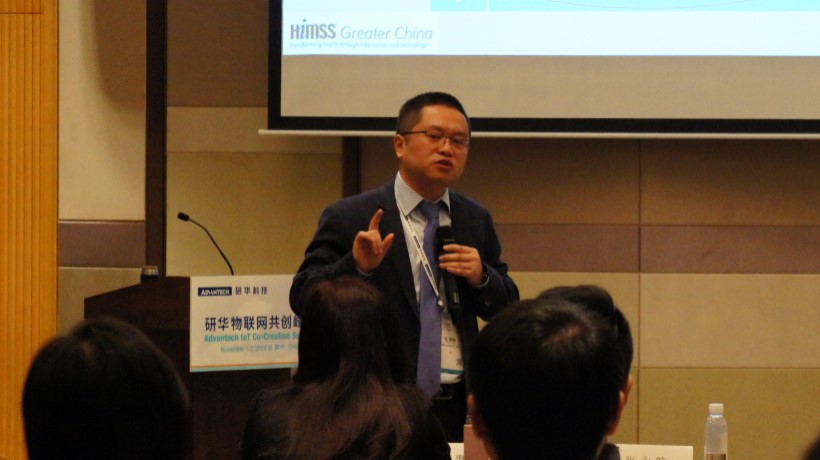 World-leading intelligent systems company Advantech (stock symbol: 2395) held the first Advantech IoT Co-Creation Summit at Suzhou International Expo Center. Over 5,000 Advantech clients and partners gathered at the event, which focused on software/hardware integration for various industries, connection and building of a complete industrial IoT ecosystem and value chain, and joint preparation for the next IoT stage development, of which the new page for intelligent healthcare is seen as IoT's major revolution on the traditional healthcare industry. Advantech invited Anjie Ren, AVP and Director of Education for HIMSS Greater China, to speak on "China hospital information installations and practice under HIMSS EMRAM" in the "Achieving hospital information installation closed-loop medication administration (CLMA) and medication administration safety" focus topic, demonstrating the actual effects of healthcare information technology (HIT) on patient safety and healthcare quality improvement.
Whole person, whole scope, whole life-span patient-centered information connection
The Health Information and Management System Society (HIMSS) is the world's largest international healthcare information organization. It endeavors in healthcare quality improving and patient safety enhancing HIT development work in all continents around the world.
Advantech is committed in intelligent systems and has established complete hardware, software, and systemic service networks in intelligent healthcare. To enhance Advantech and intelligent healthcare partners' leading advantages in the health information area, Anjie Ren, AVP and Director of Education for HIMSS Greater China, was invited to this event. Through analysis of HIMSS guided cases and practical examples, he explained that IoT and big data applications may already achieve the three modes of whole person, whole scope, and whole life-span. Previously, there were high borders between healthcare institutions and disciplines. Collaboration modes have now changed. All health information and data for a given individual is connected, with exclusive, comprehensive, and continuous service made available. This is realization of "whole person." "Whole scope" is the further display of data integration applications. Patients receive healthcare services from different areas, but the healthcare provider may always center on the patient, actively connecting interdisciplinary treatment procedures and approaches, thus creating an environment that reassures patients. "Whole life-span" overcomes time and space restrictions to incorporate future people's life-span from birth, growth, aging to death. The healthcare system shall not only reference the patient's self-reports during visits, but also obtain their complete personal health data through technology application.
As technology matures, hospitals invest in intelligent health infrastructure
Ren said that the concept for the three models have actually been around for a while, but their rise to prevalence must be attributed to "technology that made everything possible." IoT and big data technologies are gradually matured and applicable, and companies including Advantech are leading the way into intelligent healthcare technology development and integration, urging hospitals to launch healthcare-related infrastructures and process reengineering, save on rising human resource costs, reduce error rate, and improve healthcare quality.
During his talk, Ren mentioned the Electronic Medical Record Adoption Model (EMRAM), developed by HIMSS Analytics and which facilitates hospital scoring in eight stages, 0 to 7. Nine hospitals in China have achieved stage 7, making China the country with the most stage 7 hospitals besides USA.

Closed loop medication administration demonstrates health information systems' contribution to clinical medicine
EMRAM is applicable to emergency, non-emergency, and clinical healthcare settings. Its unique data analysis capacity and speed helps hospitals reconstruct service modes. Stages 0 to 5 focus on information hardware installation in the hospital and achieving clinical work administration within system management. From stage 6 onwards, hospitals are required to be able to summarize and analyze data. Ren declared closed-loop medication administration (CLMA) the epitome of EMRAM data application.
Medication administration has always been seen as one of the healthcare processes with the highest error rates. It includes drug procurement, delivery, stocking, storage, automated stock management, and distribution of drugs from pharmacies to sickrooms. In-between processes also involve prescription writing by doctors, reviewing by pharmacists, and then drug distribution to nursing stations for storage, bedside administration by nurses, and finally drug effectiveness checking. The full procedure is seamlessly linked and forms the medication administration closed loop. Several small closed loops exist under the large closed loops, regulating work process details.
Lowering error rates through system integration supported by advanced technology, ensuring better patient safety
"Systems have no real use under manual work environments. Healthcare service efficiency shall be improved only by using automated systems to filter cases with actual problems for manual handling and verifying the other drugs with the system to complete closed-loop administration," said Ren. HIMSS stresses that technology allowing, outstanding management efficiency will be achieved. As an example, Ren mentioned that Xiamen University Hospital saw significantly lowered error rates in medication safety systems after introducing the closed loop medication administration, while before the rates had always been relatively high. Ren stated that a properly designed system may easily perform closed-loop medication administration and improve medication accuracy and safety, in contrast to connecting the medication administration safety process through manual checking.
Advantech's current intelligent medication management system solution is one that complies to HIMSS stage 6 requirements and beyond. It utilizes RFID technology and individual medication box locking systems to accurately track medication flows from the pharmacy, nursing station, to bedside administration, and to ensure that medication boxes are correctly exchanged and transferred throughout the process, reducing error rates and guaranteeing patient safety. Advantech's medication management solution is flexible and applicable under central, distributed, or combined management. It is adaptable to different hospital scales and workflows. During the event, Ren declared that Advantech's dedication in the IoT field and its practical product developments shocked him and gave him a strong impression. He suggested Advantech to leverage their leading knowledge in IoT to invest in closed loop knowledgebase management, driving hospitals to re-engineer their organizations and processes, and further promoting developments such as scientific research and artificial intelligence healthcare.